Like a big family with one goal: to grow.
Together We Win
The company starts from the heart: it is something visceral, it is an emotion, a story you live. It is an ongoing, daily challenge that we evolve with courage, dedication and enthusiasm by embracing challenges, seeking and even inventing solutions. We believe in people and sharing goals. The future is prosperous: the team is close-knit, motivated and focused on growth and improvement.
"Work is growing together."

Massimo Pollastri

Founder and President Officine Pollastri
Team's words
When I arrived here, I breathed a family atmosphere and a strongly technological company. In recent years we have created a stronger and more united team, made to grow together.

Officine Pollastri is a multi-ethnic company that strongly believes in inclusiveness and values the talent of each individual. And its needs too!
Watch the interview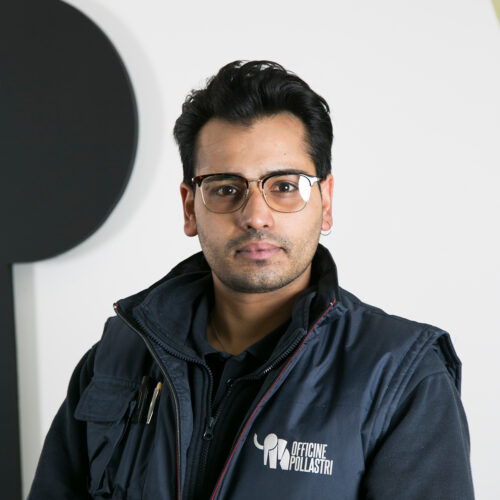 I grew up here as a motoman programmer. Each I take care of production from A to Z, collaborating with internal and external operators in an atmosphere of mutual esteem and stimulation. Today, the sectors we work for are mostly automotive, agricultural, earth-moving, and special fittings for disabled transport.

There is a good relationship between colleagues. We try to improve continuously. Always working as a team. I hope and wish the company will always be like this: by maintaining this team spirit, we will continue to grow and improve.
Watch the interview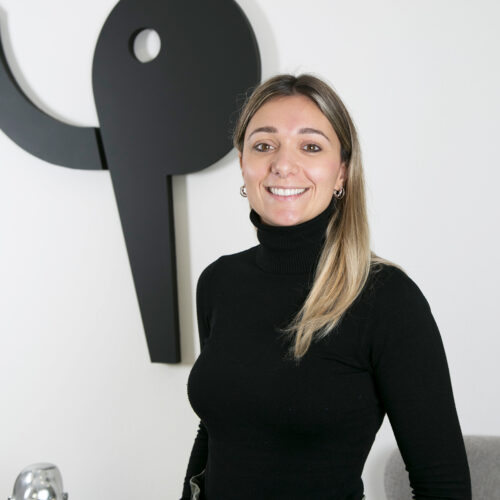 I have not been here long, but nothing is left to chance. In recent months we have invested in training, improving procedures and finding new projects. We are all young, a cohesive team, guided by the experience of Licia and Massimo Pollastri. In these months we have improved a lot: we have understood what we like and do not like to do. Above all, we have understood that the phrase 'We have always done it this way' is not the claim that sets us apart. We are dynamic, ambitious, open to innovation. One of the company's strengths is familiarity: we support and tolerate each other.
Watch the interview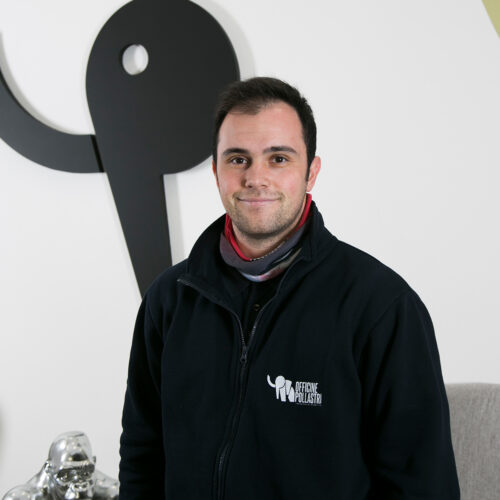 Coming to work here is a pleasure: the technologies adopted allow us to obtain products of a certain workmanship, always of a high quality; the staff strives to give the best possible and to produce everything with the utmost precision. Relations with customers and suppliers are very good: together we work to maximise the production process. We are state-of-the-art and efficient. This gives us an advantage over our competitors. (…) In the future of Officine Pollastri I see new production, economic and innovation possibilities. I would recommend coming here to work because of the good relationship with colleagues and what the company represents internally, in the region and worldwide.
Watch the interview
Apply Now!
Licia Pollastri, Purchasing Manager
Our corporate culture is based on the principles of sustainability, inclusiveness and responsibility. Values that we pursue through conduct based on diligence, integrity and mutual fairness. Ours is a high-tech company. Yet we strongly believe that it is people who energise every action, bringing imagination, solutions and entrepreneurial spirit to every project. Co-workers, suppliers, customers: we are all part of a single gear that moves together to anticipate the future and overcome the challenges of each day. Join the team!
We are always looking for new resources who share our ideas and values. Are you one of them? Send us your application.
Planning Manager
We are looking for a Planning Manager for our metalworking company with subcontracted work for third parties who will be responsible for the following tasks:
• Plans and schedules production on customer orders;
• He is in charge of feasibility analysis, planning of delivery times together with the Production Manager, checking work progress, delivery times, monitoring and forecasting production costs;
• Calculating time and methods, analysing deviations, measuring with process indicators, defining short/medium-term production plans;
• Optimises production flow with production data collection by product type
• Plans the production capacity of resources and machinery
• Managing reports with indication of volumes and non-conformities, with a view to optimising the supply of components and semi-finished products
• Accounts for product costs
• Prepares reports for sales management
• Collaborates with procurement in the scheduling of raw materials and/or work accounts
• Carries out lead time analysis of products between production and sales
• Manages the production plan of departments and warehouses (raw materials, semi-finished and finished products) ensuring shipments according to customer requirements and plans
• Analyses production development and improvement activities.
Requirements:
• knowledge of company processes, the Quality System, company organisation and working methodologies to be applied with regard to production planning;
• full familiarity with IT tools, in particular Excel and MRP software;
• knowledge of production accounting, business processes/flows, principles and methodologies of lean thinking, predisposition to teamwork, preferably experience in the metal industry.
Quality Control Officer
Requirements:
• excellent knowledge of technical drawing
• knowledge of basic measuring instruments such as Gauge, Probe, Altimeter
• preferably knowledge of the FARO measuring instrument
• ability to manage and analyse non-conformities, drafting certifications
• excellent use of Office package, e-mail.
• production testing.
• available to attend internal training courses, possibility of professional and financial growth.
• we are looking for a dynamic, enterprising, reliable, determined person.
• the candidate must be able to interface with the customer for any problems inherent to his work.
• preferably with at least 5 years' experience
• maximum 25 km distance from the company.
Nots:
Working hours 8:00-12:00/13:00-17:00 (Flexible)
Senior Bending Department Employee
Requirements:
After an initial shadowing period, the selected candidate will occupy an important position in the company's Production department. For this, previous experience in the job of at least 3/5 years in similar contexts is required. Specifically, he/she must be autonomous in machine positioning, CNC programming on board the machine, and sheet metal bending. An essential requirement for selection is knowledge of mechanical drawing and technical measuring instruments.
Excellent organisational and interpersonal skills with internal operators and the work team complete the profile.
Nots:
Working hours: 8:00 to 16:30
The bending machines in the company are the latest generation Amada (to see our bending machine fleet click here).
Contract and perspectives:
We offer a contract for an INDefinite period of time, with collective labour agreement. Salary and level commensurate with actual skills and experience.
Real possibilities for professional growth as bending department manager, in a dynamic and engaging work environment.